Company
Appalachian Renewable Resources was started by Scott Noethen in early 2010. The vision, at the time, was to incorporate solar, hydro, and wind resources in addition to sustainable and efficient building techniques to provide freelance consultation to anyone interested in incorporating those ideas into their building design. From 2010 until present, Scott has placed a personal emphasis on acquiring proper education and certification, which is a never-ending process. During the course of the past six years Scott has been involved in the installation and maintenance of over 1MW of solar energy throughout Tennessee and Virginia. At this time the future of Appalachian Renewable Resources is focused on energy audits, solar photovoltaic, and solar thermal technologies. The reality of Appalachian Renewable Resources today is slightly different than the vision of those early years, but Scott has maintained the core principal of environmental stewardship and will continue to do so as the company evolves.
Company Timeline
2010~ Appalachian Renewable Resources was awarded a grant for Solar Innovation as part of the ARRA of 2009  from the Tennessee Solar Institute.
2011~ Appalachian Renewable Resources was approved for a State of Tennessee Specialized Solar Contractors License.
2012~ Appalachian Renewable Resources partnered with green|spaces in Chattanooga, TN after Scott received his RESNET HERS Rater Certificate.
2013~ Appalachian Renewable Resources commissioned it's first residential solar photovoltaic installation.
2014~ Appalachian Renewable Resources continued to install solar photovoltaic systems, and partnered with Energy Vanguard in Atlanta, GA to continue providing RESNET HERS ratings.
2015~ Appalachian Renewable Resources continued to install solar photovoltaic systems, and Scott earned the North American Board of Certified Energy Practitioners (NABCEP) Solar PV Installation Professional Certification.
Meet Scott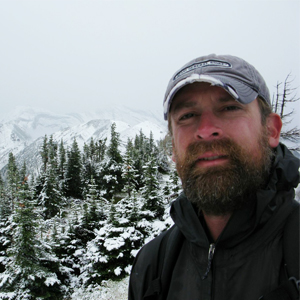 My name is Scott Noethen.  I've lived in Knoxville since 1999.  I'm an avid adventurer, which, for me, among other typical outdoor activities, includes mountaineering and long distance trekking.  Over the last 14 years I've trekked end to end (also known as a thru-hike) on the Appalachian Trail, The Eastern Continental Trail, The Pacific Crest Trail, and Canada's Great Divide Trail (twice).  Other hiking endeavors include day hikes and overnight trips in the Great Smoky Mountains National Park near Knoxville, to Puerto Rico's El Yunque National Forest and innumerable places in between.  Notable peaks include Mount Whitney, CA, Mount Rainier, WA, and Mount Elbert, CO.  In addition to the countless miles of trekking and mountain climbing, I've hitchhiked all over North America and Mexico, which is, as you can probably imagine, an entirely different kind of adventure altogether.
Throughout my travels, I have had the opportunity to witness firsthand such things as the massive clear cuts in southeast Quebec, CAN, the receding glaciers of Glacier National Park, MT and the low hanging smog over Los Angeles, CA.  Conversely, I have also experienced the amazing and diverse ecosystems of the Everglades National Park, FL, the untouched beauty of the Northern Canadian Rockies, and the petroglyphs of indigenous inhabitants of Baja California, MEX.  I believe that it's experiences like these that planted the seed of personal environmental stewardship.